Koa Ridge : Oahu's Newest Planned Community
After over 15 years of planning and preparation, Hawaii developer Castle & Cooke has finally broken ground on Oahu's first sustainably planned suburban community, Koa Ridge. Covering almost 576 Acres in Waipio in Central Oahu (Near Miliani), Koa Ridge will offer over 3,500 homesites with lots averaging 4500 sf. Koa Ridge will be a complete community, offering not only single-family homes, condominiums, and townhomes, but also shopping, dining, fitness, 7 miles of biking trails (the Ho'ala Trail), and community activities. The project will provide 2500 new jobs for Oahu, and brings incredible opportunities for homeownership with 30% of the housing being reserved as affordable housing. The first development, Nanea, will consist of 22 (phase1) and 16 (phase 2) single-family homes. Koa Ridge is conveniently located on Ka Uka Blvd., just next to the Waipio Costco, just off the H2 near Mililani Town. Floor plans are now available and pricing will be divulged in the upcoming new home lottery.
The first Phase of Koa Ridge will be Nanea Phase 1, and will consist of 18 single-family homes. There are seven customizable, 3-4 bedroom home plans to choose from, ranging from 1329-2228 SF, and priced from the $800,000's. A lottery will be held on July 25, 2020 and applicants must be preapproved from a local lender (Bank of Hawaii, Central Pacific Bank, or American Savings Bank) to submit an offer. The lottery is for owner-occupants only- no investors, and an 80-day recession period is included with these offers.
The second phase to be constructed will be Luana at Koa Ridge, a series of 3-bedroom duplex (or paired) homes, priced from the $700,000's. These homes will range from 1286-1489 sf and home sales should begin around August of 2020.
The third phase at Koa Ridge will be Malina at Koa Ridge, a development of affordable, single-family townhomes priced for the $400,000's. These 1-3 bedroom townhomes will range in size from 501-1092 SF. Sales for these homes will begin in late 2020.
Koa Ridge is also ideally located for our active duty military folks, being central to many of Oahu's major military bases: Schofield Barracks, Fort Shafter, Wheeler, Hickam Air Base, and the Army National Guard Training Center. Homebuyers looking to finance with VA loans can take advantage of 0% down and lower interest rates, and use Oahu's higher BAH to own a home in a vibrant community while stationed in Hawaii.
Real Estate on Oahu has traditionally developed as individual homes, smaller neighborhoods, agricultural communities, or condominium structures across the island. Mililani Town was the first planned community on Oahu, begun back in 1968. Koa Ridge brings together Hawaiian architecture and the concept of the large "planned community", creating almost a city within a city, with a focus on Sustainability. The center of the community, known as "The Village Center" will contain dining, shopping, and entertainment options, as well as churches, a hotel, schools, a medical center and the Koa Ridge Industrial Center.
If you are interested in learning more about Koa Ridge, contact Orion Barels (RA) today to discuss the homes for sale in Koa Ridge and to get more information on floor plans, home selection lottery, and pricing.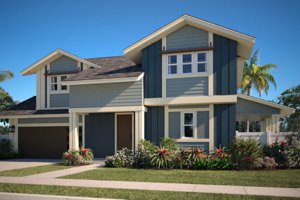 *Orion Barels (RA) and Compass Real Estate are not the project broker nor the agent for Koa Ridge by Castle and Cooke Hawaii